Coco Collette (CoCo)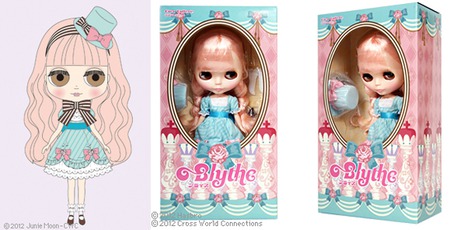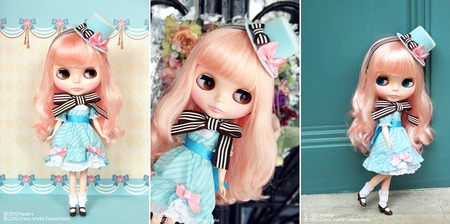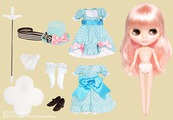 Дата выпуска: 20 июля 2012г.
Цена: ¥14,490 yen ebay
Тип выпуска: обычный.
Молд: RBL
Тип тела:
Тон кожи: Natural.
Волосы: светло-розовые (как у Стеллы Саванны).
Чипы: розовые (прямо ), светло-карие (вправо/special), зеленые (прямо ), синие (влево).
Макияж: коричневые (teak brown) тени, ярко-розовый цвет румян и губ.
Особенности:
Колечко: стандартное.
Аутфит: платье, шляпка, носки, туфли, нижнее белье.
В комплекте подставка.
Название релиза (японск.) - コココレット
Официальное описание:
My name is Collette. My mom gave me this name. I love my name so much because it sounds lovely and I love lovely things like Lolita style fashion.
My mom always calls me Coco since I was a little baby though.
Now, I became a young lady so I want everybody to call me Collette. When I told my mom to call me so,
she said that from today I will be called Coco Collette and we both are happy.
Coco Collette loves Lolita style fashion so much! Fresh light blue with lovely design one-piece has puffed sleeves, frills, laces,
ribbons and fluffy skirt with Lolita motif.
She has a small pretty light blue hat on her head which goes very well with her clothes.
Her dress is also decorated with Coco's favorite ribbons. Coco Collette has not so sweet fashion points too like
brown and white striped ribbon around her chin which make her looks perfect in total color coordination!

Cсылки:
Группа на Фликре: http://www.flickr.com/groups/blythe_cococollette/
---
Photo Credit: www.blythedoll.com
Мы будем рады любой новой информации о данной кукле. Спасибо :)