Odette Lake of Tears (OLT)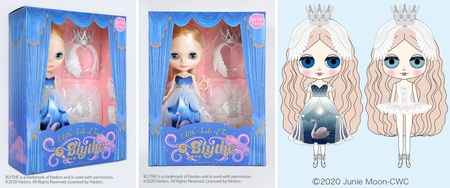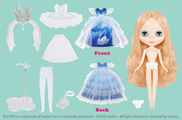 Дата выпуска: 15 мая 2020г.
Цена: ¥18,500 yen ebay
Тип выпуска: обычный.
Молд: RBL Renew
Тип тела:
Тон кожи: Snow
Волосы: светло-каштановые (light brown).
Чипы: светло-синие (прямо/special), синие (вправо), розовые (прямо), зеленые (влево ).
Макияж: голубые тени, розовый цвет румян и губ.
Особенности:
Колечко: стандартное.
Аутфит: балетная пачка, платье, подъюбник, пуанты, лебединые ушки с короной, нижнее белье.
В комплекте подставка.
Название релиза (японск.) позволяет поискать и фото на гугле, и саму куклу на японских торговых площадках - オデット レイク オブ ティアーズ
Cсылки:
https://www.instagram.com/explore/tags/odettelakeoftears/
https://www.instagram.com/explore/tags/オデットレイクオブティアーズ/
Официальное описание:
Neo Blythe "Odette Lake of Tears" final photos
Finally I have found true love.
I will no longer shed tears at the lake at night.
I was able to meet him because the moonlight returned to me.
I am happy to find love that will last forever.

The ballet costume is a classic white tutu with an abundance of tulle, elegantly finished with silver lace and rhinestones.

The gown has a fantastic blue gradation and white color. The graphic depicts the appearance of Odette, who is transformed into a swan and floats on the lake at night. The over skirt is covered in soft tulle lace.

The head ornament fits like an elaborate headband to emulate a silver crown with swan feathers. White tights, ballet shoes with ribbon ties complete the costume,

The face type is Radiance Renewal, and her face color is snow.
The hair is long with a loose perm and center part. The hair color is light brown.
The eye shadow is blue wth pink cheeks and lips.
A special light blue eye color is set in a forward gaze.
Face Type: Radiance Renewal
Face Color: Snow
Make up: Eyeshadow- Blue, Cheers and Lip: Pink
Eye Color: light blue, blue, pink and green
Hair Color: Light Brown
Set Includes: Doll, dress, tutu, head accessory, pannier, tights, shoes, shorts, stand

Release date: May 15, 2020
Price: 18,500 JPY
---
Photo Credit: www.blythedoll.com
Мы будем рады любой новой информации о данной кукле. Спасибо :)