Shelley Victorian (ShVi)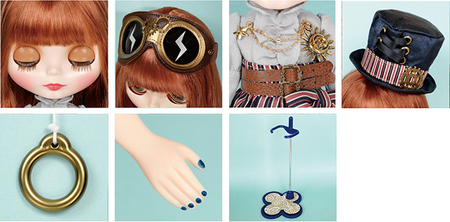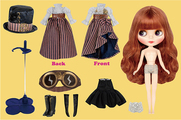 Дата выпуска: ноябрь 2017г.
Цена: ¥22,500 yen ebay
Тип выпуска: лимитированный (Habro Exclusive).
Молд: RBL+
Тип тела:
Тон кожи: Cream.
Волосы: красно-каштановые.
Чипы: фиолетовые (влево /special), оранжевые (прямо), синие (вправо), серые (прямо/special).
Макияж: коричневые тени и веки, розовый (pose pink) цвет румян и розово-красный цвет губ .
Особенности: коричневые специальные ресницы, лак на ногтях синего цвета.
Колечко: обычной формы, но золотое.
Аутфит: платье, подъюбник, шляпа, очки-гогглы, носки, ботинки, нижнее белье.
В комплекте подставка.
Название релиза (японск.) - シェリー・ヴィクトリアン
Cсылки:
Группа на Фликре: https://www.flickr.com/groups/3863082@N25/
https://www.instagram.com/explore/tags/shelleyvictorian/
https://www.instagram.com/explore/tags/シェリーヴィクトリアン/
Официальное описание:
I Love Steam Punk! Hasbro Exclusive Sherry Victorian is coming!

Hasbro Exclusive Neo Blythe "Sherry Victorian" is a novelist dressed in steam punk fashion.

Writing is a great passion of mine, especially Sci-Fi! I also really love fantasy set in the 19th century and Neo Victorian aesthetics.
My work is really influenced by my friends H.G. Wells and Jules Verne.
How do I know them you ask? By riding my time machine of course!

Sherry Victorian is a huge proponent of Steam Punk and Neo Victorian fashion, based on the fantastical technology of the future-past.
Her unique and chic items leave quite an impression.
Her high waisted skirt and blouse, her top hat and goggles, and her boots that reach her knees, all convey a whimsical intelligence.
There are a lot of great details in her clothing!
Sewed on to her blouse is a moon, sun, and star charm, on her fishtail type skirt are two leather belts, and her laced up top hat and goggles feature a gear!

Her face type is Radiance+ and her face color is cream.
Her brown hair is long, permed lightly with her bangs cut across.
Her eyeshadow and eye lids are brown, and her eye lashes are a special brown.
One of her front facing eyechips are gray, and her left facing eyechips are purple.

Face Type: Radiance +
Face Color: Cream
Makeup: Brown eyeshadow, red lip, rose cheek
Eye Color: orange (front), blue (right), gray (special color), purple (special color)
Eyelid: Brown (molded color)
Eyelash: Special Brown
Hair Color: Reddish Brown
Earrings: None
Manicure: Dark Blue
Set Includes: Doll, one piece dress, under skirt, hat, goggles, socks, boots, shorts, and stand (17.5 cm)

Available October 2017
Retail Price: 22,500 JPY
The Hasbro Limited Neo Blythe Shelley Victorian release date has been pushed back to November.

The original belt color will be changed from light brown to dark brown.
---
Photo Credit: www.blythedoll.com
Мы будем рады любой новой информации о данной кукле. Спасибо :)