Longing for Love (LoLo)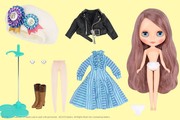 Дата выпуска: 11 декабря 2020г.
Цена: ¥17,900 yen ebay
Тип выпуска: обычный.
Молд: RBL Renew
Тип тела:
Тон кожи: fair
Волосы: каштановые с фиолетовым отливом.
Чипы: светло-синие (прямо/special), синие (вправо), оранжевые (прямо), зеленые (влево).
Макияж: коричневые тени, ярко-розовый цвет румян и губ.
Особенности: серьги.
Колечко: стандартное.
Аутфит: куртка, платье, берет, колготы, сапоги, серьги, нижнее белье.
В комплекте подставка.
Название релиза (японск.) позволяет поискать и фото на гугле, и саму куклу на японских торговых площадках - ロンギングフォーラブ/
Cсылки:
https://www.instagram.com/explore/tags/longingforlove/
https://www.instagram.com/explore/tags/ロンギングフォーラブ/
Официальное описание:
CWC Exclusive Neo Blythe "Longing for Love" final specs are here!
I'm sure one day I will meet the man of my dreams.
I believe that one day I will meet the man of my destiny, and I'm sure that they will be a wonderful person… Maybe you've already met them.

Longing for Love is the combination of elegant dresses and a hip jacket!
The dress is made from a soft chiffon striped fabric.
The unique design has elaborate details of the transition of patterning in the faux box pleats, the ruffled chest and vibrant colors.
The black moto jacket has a silver tone buckle and zipper.
The beret has two rosette badges with a bolden "B" for Blythe.
She wears silver heart shaped earrings.
She wears stockings with long two-tone boots.

The face type is Radiance Renewal.
The face color is fair.
She has side parted, long brown hair with a soft purple tint for a sophisticated look.
She wears brow eye shadow, bright pink lips and cheeks.
She has one set of special light blue eye chips a front gaze.


Face Type: Radiance Renewal
Face Color: Fair
Makeup: Brown eyeshadow, bright pink lips and cheeks
Hair Color: Brown with purple tint
Earrings: Yes, small hearts
The Set Includes: doll, dress, leather jacket, hat, earrings, stockings, underwear, boots and stand.

* Final product may differ from pictured.

Release Date: December 11, 2020
Price: 17,900 JPY

* Please note, the doll in the photo has had it's hair styled and brushed.
---
Photo Credit: www.blythedoll.com
Мы будем рады любой новой информации о данной кукле. Спасибо :)